Building a love for science both in (and out) of the classroom – Video on NBCNews.com
Aleshia Clarke ♦ June 22, 2013 ♦ Leave a comment
See on Scoop.it – Protective Factors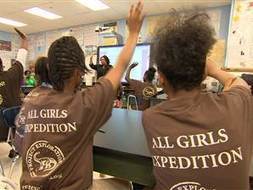 Video on msnbc.com: A Chicago program called Project Exploration is helping low-income kids discover practical applications for science, math and engineering by introducing them to careers they might not ordinarily have considered.
Aleshia Clarke's insight:
These programs are a "lifeline" to disadvantaged kids. They offer a "hand up" for those who don't currently see the point to getting a good education. Their "hands-on" nature motivates a child's natural curiosity and willingness to learn.
Parents can also host small group STEM (Science, Technology, Engineering, Math) "clubs" at home by getting 4 – 6 kids together to work on a "project" a couple times a month.
There are formally sponsored teams that teachers or parents can "lead." I lead my daughter and her friends, aka the "Random Clan" in the Sally Ride Science Toy Challenge, and we made it all the way to the final challenge round!
If a group is out of the question, I reccommend the NASA Inspire Program; it is an online STEM mentoring community that rewards kids for individual activities and offers online teamwork activities too. Plus, kids get an official NASA team patch designed by one lucky member. How cool is that!
See on www.nbcnews.com